5 Water Damage Statistics Every Homeowner Should Know
12/15/2021 (Permalink)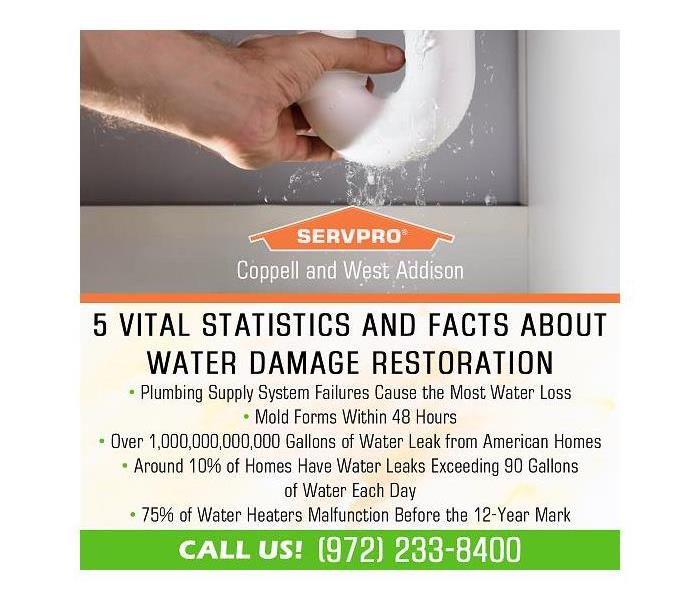 Blog Summary: SERVPRO of Coppell and West Addison provides North Dallas homeowners with a few water damage statistics to highlight the importance of water damage restoration.
5 Vital Statistics and Facts About Water Damage Restoration
Water damage is a homeowner's worst nightmare. It diminishes the home's value and can deteriorate its structure at a rapid rate. That's why it's crucial to call a water damage restoration expert during the first signs of an issue.
However, many people don't understand how damaging water can be or how vital water damage restoration is to a home's structure. The professionals at SERVPRO of Coppell and West Addison put together a few facts and statistics to help homeowners understand the effects of water damage and why it's crucial to handle it right away. Here are five vital water damage statistics every homeowner should know.
1. Plumbing Supply System Failures Cause the Most Water Loss
When a plumbing supply system fails, the homeowner must seek professional help right away before it takes a toll on the home. 48% of residential water loss stems from plumbing supply system failures, and repairs exceed $5,000 on average. Although most people equate plumbing supply system failures to cracked or frozen pipes, only one-fifth of the cases of water loss originates from pipe issues.
2. Mold Forms Within 48 Hours
Although most carpet and backing dries within 48 hours, mold and other hazardous contaminants can still form in water-ridden areas. Homeowners must call a mold expert after the area dries to prevent bacteria growth that could put their family's health at risk. It's also a good idea to contact a water damage restoration company to give the area a commercial cleaning directly after flooding.
Restoration companies use professional-grade equipment to dry the area, diminishing the chances of mold growth.
3. Over 1,000,000,000,000 Gallons of Water Leak from American Homes
If someone gathered all the water leaking from American homes, they could fill 24 billion bathtubs and 40 million swimming pools. The leaks often result in costly water damage restoration and increase the homeowner's water bill tenfold. Always check the pipes for leaks before the winter season to avoid repairs and skyrocketing water bills.
4. Around 10% of Homes Have Water Leaks Exceeding 90 Gallons of Water Each Day
Small leaks often lead to much bigger problems if the homeowner doesn't address them quickly. The continuous dribble eventually forms large puddles that deteriorate the home's structure over time. With around 630 gallons of water dripping from homes each week, it's vital to patch up any holes or cracks before water damage takes hold.
5. 75% of Water Heaters Malfunction Before the 12-Year Mark
Since most water heaters reside outside the home or in the basement, it's easy for maintenance to fall by the wayside. However, they cause more water damage than most other plumbing fixtures. Once the water heater's tank corrodes, cracks cause troublesome leaks that deteriorate the home's structure.
Homeowners should hire someone to check their water heater every now and again to ensure that everything is functioning correctly.
Reliable North Dallas Water Restoration Services
Water damage is a severe problem that requires immediate action. If water damage takes hold of your North Dallas home, contact SERVPRO of Coppell and West Addison for professional water damage restoration services.
The SERVPRO team handles all forms of restoration at a price nearly any homeowner can afford. Whether you need fire restoration or flood damage restoration, SERVPRO has the experience to get the job done.
Don't trust inexperienced restoration companies with your North Dallas home. Contact SERVPRO of Coppell and West Addison at (972) 233-8400 for high-quality water damage restoration services today!