Local Restoration Company Explains Why Water Removal Matters When Your Pipes Burst
5/13/2022 (Permalink)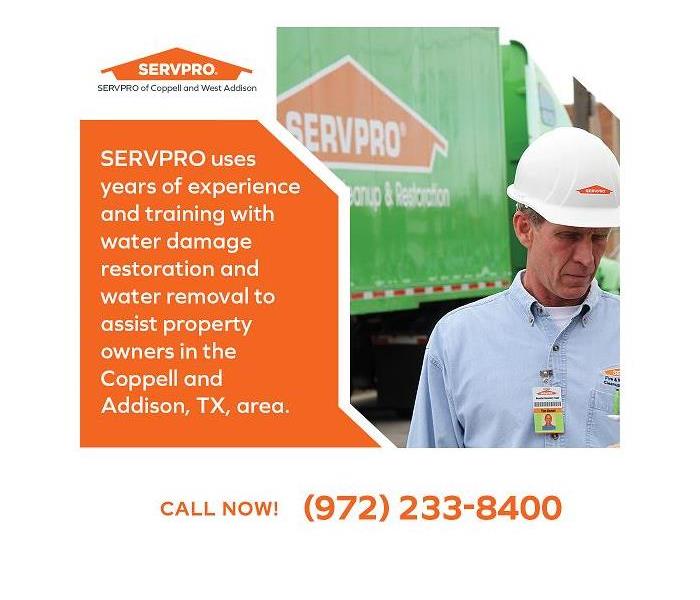 Blog Summary: SERVPRO of Coppell and West Addison details the water removal steps property owners should take in the event of a pipe burst in their commercial or residential property.
What to Do When Your Pipes Burst?
A burst pipe represents a major cause for concern for both commercial and residential property owners. Fortunately, individuals in this situation can get prompt help from the team at SERVPRO of Coppell and West Addison.
Get expert advice on the best ways to handle water removal, cleanup, and water damage restoration in Addison with this article.
Take These Steps Following a Pipe Burst in Addison
Property owners often feel unsure what to do immediately after a pipe bursts. Taking the correct steps limits property damage and makes repairs easier. The experts at SERVPRO recommend:
Turning Off the Property's Main Water Valve
Shutting off the main water valve stops additional water from entering the property. Individuals may contact maintenance staff or landlords if they cannot find the main water valve on their own.
Shutting Off the Electricity
Exposing excess water to electricity can result in electrocution. Turn off the electricity at the main breaker box if possible. However, no one should approach the box if it is surrounded by water or otherwise unreachable.
Reaching Out to a Plumber
Plumbers identify the reason for the burst pipe and begin immediate repairs, stopping further damage to the property. Pipes burst due to:
Corrosion caused by time and wear and tear
Movement of pipes over time
Clogs in the plumbing system
Freezing temperatures in the winter months
Plumbers may need to replace piping or make other system adjustments to ensure that other pipes do not burst.
Calling a Restoration Company
Getting professional help with water removal and cleanup limits the damage to properties in the Addison area. Damage restoration companies bring along professional-grade equipment for water extraction, including:
Large pumps
Truck-mounted vacuums
Fans
Dehumidifiers
Restoration companies handle the cleanup and repair process. They work to bring your property back to better-than-new condition.
Documenting the Damage
Property owners must document all the damage caused by a pipe burst. Take pictures of the damage to the building, furniture, and other possessions. The insurance company will likely ask for these photos later when determining how much compensation to offer.
Handling Other Forms of Property Damage in Allison
Property owners sometimes experience water damage from events other than burst pipes. Storm damage restoration may prove necessary after heavy rains cause flooding, for example.
In addition, some property owners notice damage due to a leaking pipe or sewage backup. Sewage backups expose properties to black water, which contains dangerous bacteria and contaminants that could cause illness.
Property restoration companies like SERVPRO also handle smoke and fire restoration. Fires often start in the kitchen or due to improper wiring in the electric system of a home or business. Fires spread rapidly and may also lead to water damage due to the use of fire hoses and sprinkler systems.
SERVPRO uses years of experience and training with water damage restoration and water removal to assist property owners in the Coppell and Addison, TX, area. The licensed, bonded, and insured crews use specialized equipment to handle property repairs and provide 24-hour emergency responses.
Contact Team Shaw of SERVPRO of Coppell and West Addison by calling (972) 233-8400 for water removal services.