How to Repair Water Damage on Wood Furniture: A Concise Guide
10/20/2022 (Permalink)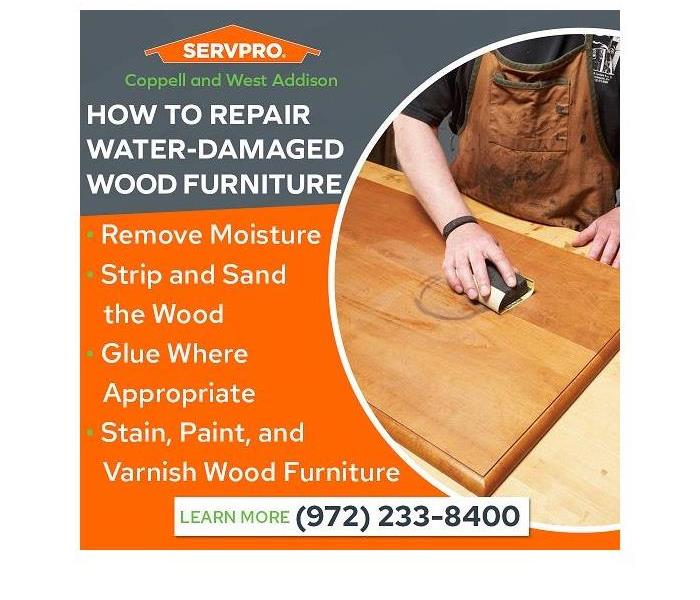 Blog Summary: SERVPRO® of Coppell and West Addison explains how water can damage wooden furniture and provides expert guidance for repairing wooden furniture after water damage occurs.
Water seeps deep into porous wooden furniture, softening the wood and spurring mold and mildew growth. Visible water damage indicators include water stains, white spots, and other discoloration.
White spots indicate that the water hasn't penetrated the wood's surface, while dark marks indicate significant damage that has penetrated the seal. Depending on the severity of the water-damaged wooden furniture, it may be wise to obtain water damage restoration from experts like SERVPRO of Coppell and West Addison.
How to repair water-damaged wood furniture
Repairing water damage on wood furniture requires a careful damage restoration process. This process avoids creating further problems while resolving existing issues.
Professionals like SERVPRO of Coppell and West Addison make wood furniture repair quick and easy. They'll perform the following steps to repair furniture after water damage.
Remove moisture
The first step to repairing water-damaged wood furniture is to remove moisture. Drying solutions like hair dryers remove moisture quickly. However, they can worsen warping and cause breakage.
Furniture should sit under direct sunlight for a minimum of 24 hours for successful drying. If sun-drying isn't possible, a dehumidifier is the next best option for removing moisture. Despite the lengthy process, the furniture reaches excellent condition.
Strip and sand the wood
The next step is to strip and sand water damage stains and discoloration. Individuals can apply a varnish stripper solution to affected wood and oxidize the damaged areas. Scraping tools are ideal for stripping the softened wood's outermost surface from the rest of the furniture.
After stripping the wood, it's time to sand. First, sand the wood with a rough grit, then adjust to a finer option to get a smooth surface with a nearly polished outer layer. Brush away any wood dust with a paintbrush or similar tools.
Glue where appropriate
Water can damage the glue on wood furniture as well. Sand between furniture joints to remove affected glue and clear residual dust with a paintbrush.
For pieces requiring reattachment, it's necessary to use a vice or clamp to keep them together while the glue dries. Epoxy wood glue will dry in 12 to 18 hours, depending on the amount of adhesive necessary and the extent of the water damage.
Stain, paint, and varnish wood furniture
Match damaged furniture with the appropriate waterproof stain color and apply it with a paintbrush. Remove extra staining with a clean rag. If choosing to paint furniture instead, multiple coats of latex enamel-based paint may be necessary.
Some homeowners choose not to stain or paint their wood furniture. In this case, wood varnish is the best solution against water damage.
Wood varnish will waterproof wooden furniture and keep insects away. Be sure to let each coat completely dry; otherwise, moisture becomes trapped between varnish layers and causes extensive damage.
SERVPRO® of Coppell and West Addison offers years of water damage and fire restoration expertise to North Dallas homes and businesses. When your furniture faces water damage, they implement the perfect commercial cleaning solutions. They restore the furniture to save you time and money.
Look no further than SERVPRO of Coppell and West Addison in Victoria Park, TX, for high-quality service. Call (972) 233-8400.