Why SERVPRO Is the Premier Property Damage Restoration Contractor
10/20/2022 (Permalink)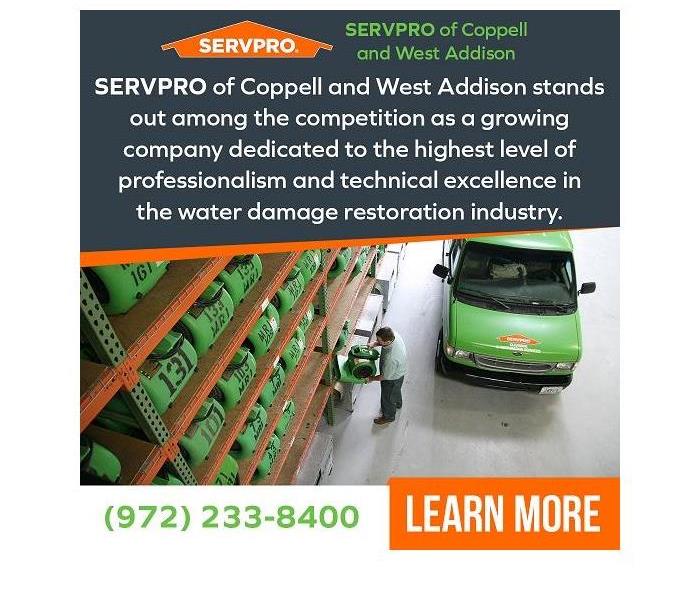 Blog Summary SERVPRO® of Coppell and West Addison explains the values and strengths of their company, which has helped countless customers recover from disaster. They outline why their emergency residential damage restoration services, which include water, fire, and mold restoration, are the best in the industry. Their priorities of experience, technology, and speed allow the company to mount an effective response to commercial and residential property damage.
SERVPRO of Coppell and West Addison is a nationwide water damage restoration company with locally-owned branches. The highly-trained technicians at each location have in-depth knowledge of the local environment and access to cutting-edge diagnostic equipment, protective gear, and tools.
Upholding high standards in training
Forbes magazine projected an increase in the cost of storm damage restoration throughout 2022. As the severity of disasters increases nationwide, homeowners and business owners facing property damage seek an affordable damage restoration company with a history of success.
To maintain its stellar national reputation and provide unmatched customer satisfaction, SERVPRO of Coppell and West Addison requires that every technician conforms to the high standards and best practices for water damage restoration set by the Institute of Inspection Cleaning and Restoration Certification (IICRC).
Rapid response, day or night, for residential and commercial cleaning
When disaster strikes, time is of the essence. If property owners wait for days or weeks before hiring mitigation services, mold, rot, and other problems can cause extensive damage. SERVPRO teams are ready around the clock to address every facet of the disaster: controlling leaks, protecting air quality, replacing contaminated materials, and more. We tackle jobs of any scale, from single-family homes to commercial cleaning in offices and warehouses.
The right tools and technology for every job
Removing mold and water from properties, especially properties that have wind and fire damage, can be a tricky business. The experts at SERVPRO of Coppell and West Addison use the most effective state-of-the-art equipment.
Water damage restoration
Water damage restoration specialists use powerful dehumidifiers and air movers to dry out the property and limit mold growth. The latest water detection and extraction technology helps them protect property from hidden water sources.
Fire restoration
Fire restoration specialists remove odors and stains with the latest cleaning agents. Our technicians do their best to return everything to its pre-damage state. We focus on restoration over replacement to keep costs down and preserve our clients' valuable property.
Storm damage restoration
Storm damage can present some of the most complex damage restoration challenges because it can combine fire, water, mold, and wind damage. Luckily, the professionals at SERVPRO of Coppell and West Addison are ready for it all.
The SERVPRO organization gives SERVPRO® of Coppell and West Addison access to national resources at affordable prices. Our team arrives at each appointment promptly and is ready to help.
SERVPRO of Coppell and West Addison stands out among the competition as a growing company dedicated to the highest level of professionalism and technical excellence in the water damage restoration industry. Its customers attest to its success. Their testimonials reveal the company's many strengths.
It is never too early or too late to call SERVPRO of Coppell and West Addison. Homeowners and business owners with property damage in Preston Hollow, TX, should visit the website to read customer reviews and learn more about their services. ContactTeam Shaw of SERVPRO of Coppell and West Addison at (972) 233-8400.